A weekend with good food, beautiful scenery and good horses, accommodation and service in the renter just relaxation and enjoyment of life.
Invite your husband or boyfriend with, we have super men's horses, also to him who hasn't ridden before.  A girl trip, a trip with friends or a family trip – the possibilities are many.  Maximum 8 participants.
The view of the Svanninge Bakker.
Accommodation is carried out either with us or at Bed and Breakfast, & URf.eks. in faldsled, not at the famous Inn, but right down to the sea in double rooms with own toilet and bath at the faldsled youth hostel.  If you want to stay overnight with us in M, it can also be done. Here's own living room, bath and breakfast.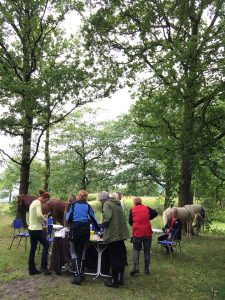 Arriving on Friday afternoon, a refreshment is served, after which we find a horse that suits the individual. Horse riding in ca. 2 hours, we rounds Trebjerg, from which we can see the Helnæs Bay with Islands, Faaborg fjord and Islands, Ærø with lighthouse on Kalnaes, Als with chimney on Danfoss and South Jutland coast.
After the tour there are lit up in our hot-tub, or hot pot, as we call it. That is the beauty of relaxation to get soft muscles up after the trip and enjoy a pre-dinner snacks.

Then good dinner with three dishes of food. The menu can we deal-it can be anything from Red beef to exotic foreign dishes. The food is made mostly of seasonal produce from the forest and garden, Karl Johan mushrooms, wild blackberries and raspberries, as well as venison, pheasant, hare or deer from the Woods. From the gardens and the peasants, fresh strawberries, nyopgravede potatoes, apples, pears, nuts, fresh farm eggs and freshly picked herbs from our own garden, fish from the fjord and obviously homemade. Evening free, but can be arranged various exciting historic or cultural experiences, if we feel the time and energy to it. You can of course also just talk, have fun together. Of course there will be at some point served evening coffee with homemade pastries or a little confections to the sweet tooth. We can also find a cognac or whiskey to coffee …
Saturday we ride a one day trip at Arreskov Lake and through the Fyn Alps. We ride 25-30 km. According to riders ' behinds and cardiovascular fitness. There is a coffee break and an ice cream or drink break along the way. In addition, we keep a longer lunch break. We enjoy a delicious lunch in the Green, of course, with tables, chairs and toilet facilities, and there are drinks to the food. Saturday night will look like Friday, what meal plan, content, etc. regards.
Sunday is also a day trip, but of course it's a different trip with different experiences of nature, but not less beautiful. This day we ride 25-28 km, possibly. smaller and in a more tranquil pace, if racers feelings in gluteal suggests it. But since all of our horses are good tøltere, wont it not to be a problem. Sunday we ride in the forest and along the beach at Falsled. There is a possibility to come to bathe with the horses, if the weather and the interest is for it. When we arrive at M lund late afternoon ends with a cup of coffee, and are packaged before departure.
The tours are carried out with groups of 6-8 people, but you are welcome to join as an individual, so we find a time that suits.